What we do
The disposal of IT Asset like desktop, laptop, smartphone, etc. safely.
Perforations, and a degaussing and physical destruction of data and safely handled in
accordance with your instructions.

REMANn's Strength
The refurbishment of used computers, including mobile devices.
If the purpose of my company to take advantage of the relocation or refurbishment capabilities
required.


Certifications &
Partnerships
We take care of information devices and equipment for re-manufacturing & disposal
We will act for all operations, including collection, inspection, and sales of equipment up a list
in batches. Also, you can also purchase surplus assets of the Company


Global Network
The recycling and the use of computerized unused IT Assets.
And compliance with environmental regulations. Material recycling should contribute to a
virtuous cycle of natural resources.

What we do

REMANn Co. were social enterprise that recycles, reuses and remanufactures unused electronic equipment.
We produce and sell re-manufactured computer equipped with appropriate function through refurbishing and upgrade of used computer. We protect environment through re-circulation of natural resource and contribute to digital divide.
More than 4 million units of computers are discarded every year in Korea, and volume of electronic waste is increasing steadily. Harmful chemicals or heavy metals are contained in electronic wastes, therefore they should be handled safely. Weight of one unit of desktop computer is less than 10㎏, but its environmental value in recycling one unit is 1762㎏. Before recycling the materials, re-manufacturing is required for maximized reuse.
REMANn Co. were established in 2008 in order to solve such social issue.
Persons who have same minds in making re-manufactured computers that are reliable and as good as new one established the company jointly.
ICT equipment should be disposed safely because it has important information of company or individual person.
REMANn want to be "IT regeneration and re-manufacturing social venture" that provides "safe and valuable disposal service".
REMANn supplies re-manufactured ICT products at low price in the era of information and social network in order for anyone to access and utilize the information easily.
REMANn are proud of high technology and service capability for re-manufacturing and IT Asset disposal. We have global network in Asia, Africa, China, USA, etc. We are social enterprise that returns more than 2/3 of its profit to employees and society(Korean law). We aim for the community that all employees live well together.
REMANn Co. will become global social enterprise that increases efficient circulation of natural resources and social value through professional re-generating and re-manufacturing continuously.
REMANn's Strength

Incomparable REMANn's Competitiveness
Direct sales of purchased equipment by repair with the best technology in Korea / Direct sales at overseas distribution networks

Achieved the export amounting to US$1.7 million (~2015)
Recorded 100,000 units sales of "REMANn Computer" which is re-manufactured PC in Korea

The key is job reduction of staff
Cost and time saving by integrated operation of collection, transportation, test, storage, security, sales, distribution, recycling and disposal

Publishing data erasing result report and valuation report
Owning IT Asset risk management know-how through business experiences for many years

Proved REMANn's Re-manufacturing & Repair Technology
Commercialization of Korea's first 'Re-manufactured PC' / Unused IT asset Value increase effect by 30% than bid sale

Conducted the service "Green PC of Love" of Ministry of Government Administration and Home Affairs and Gyunggido Office of Education
Only company that owns complimentary Microsoft license in Korea

Largest Re-manufacturing Facility in Korea
Saving effect of warehousing cost and management cost of customer Online inventory control, test status check and sales are available

100,000 units of PC's can be stored at a time.
Largest re-manufacturing facility in Korea

Possession of Professional Data Destruction Technology and Risk Management
REMANn's security service recognized by public, financial institutes and IT/large companies Insured against security damage up to 1 billion won

Partnership with Blanncco which is the largest security solution company in the world
Registered the patent (No.10-1494095, HDD erasing and monitoring system and its method)
Obtained ISO27001 International Information Protection Management System Certification
Certifications & Awards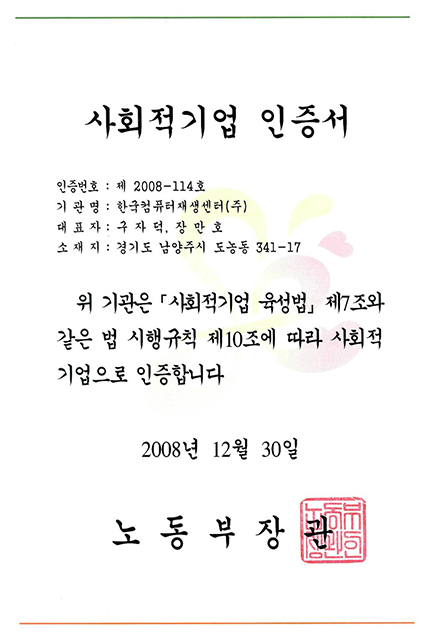 Social Enterprise (Korea)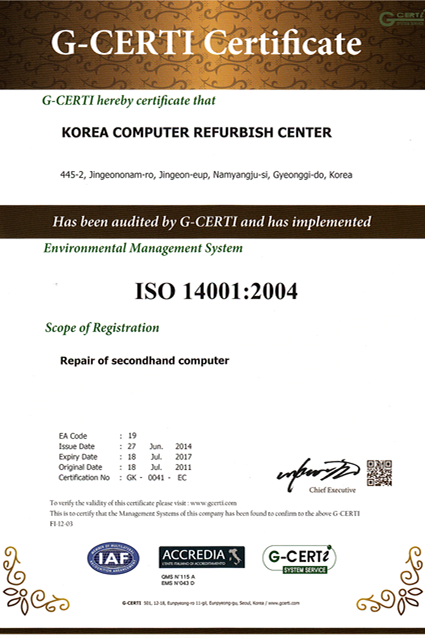 ISO14001 Environmental Management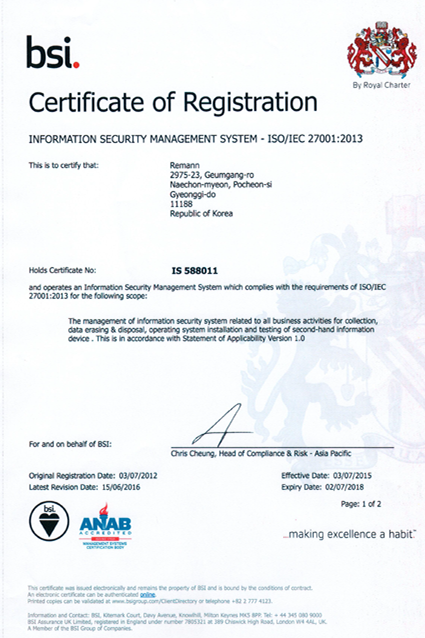 ISO27001 Information Security Management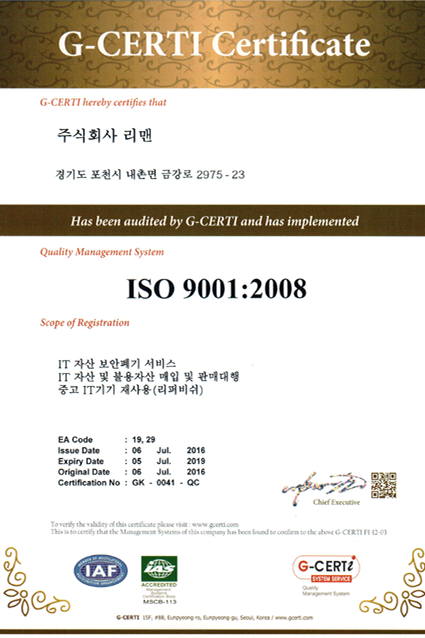 ISO9001 Quality Management System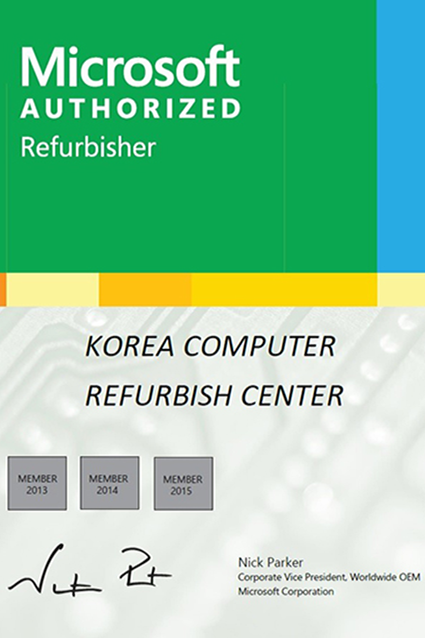 Microsoft Authorized Refurbisher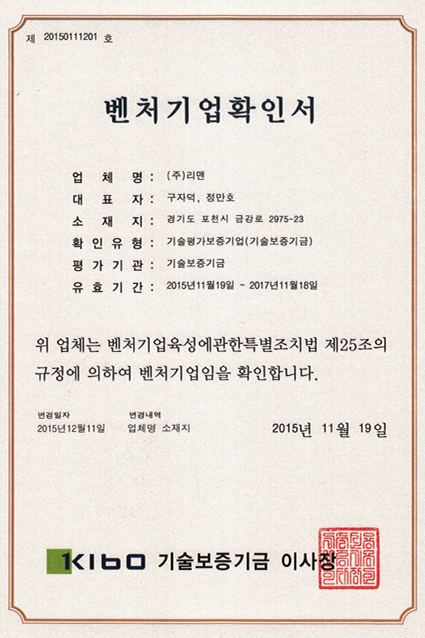 Venture Company Certification (Korea)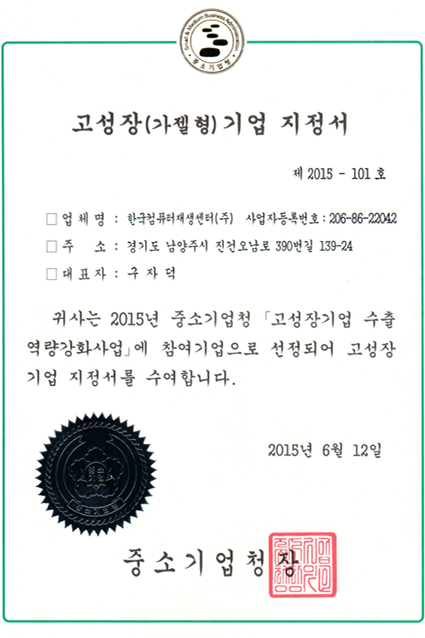 High-Growth Enterprises Certification (Korea)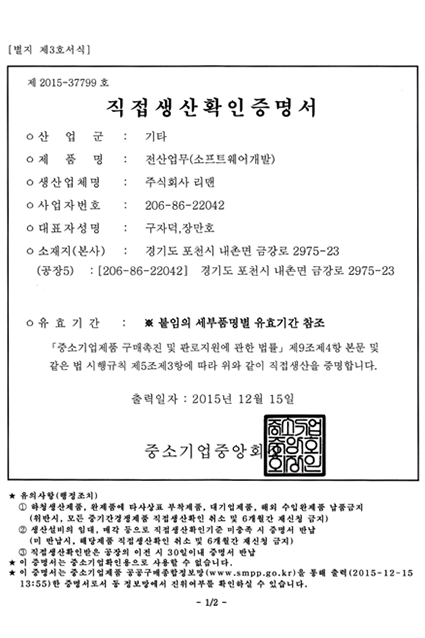 Direct Production Certification (Korea)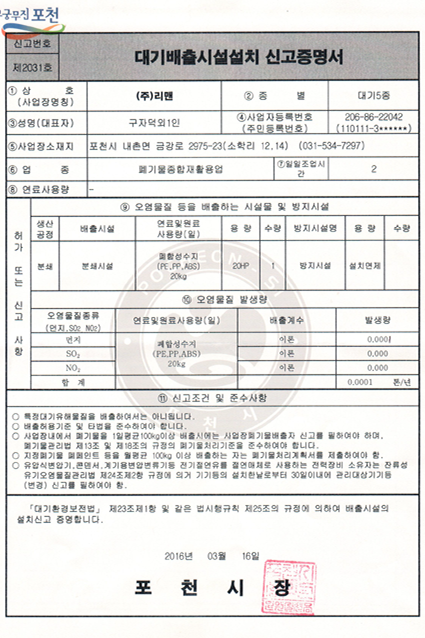 Installation Certification of Eco-Friendly Air Emissions Facility (Korea)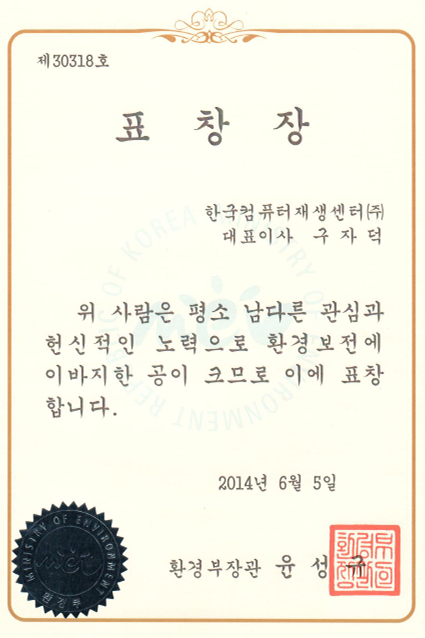 Merit Award for Environmental Protection (Korea Environment Minister)
Promising Export SME Certification (Korea)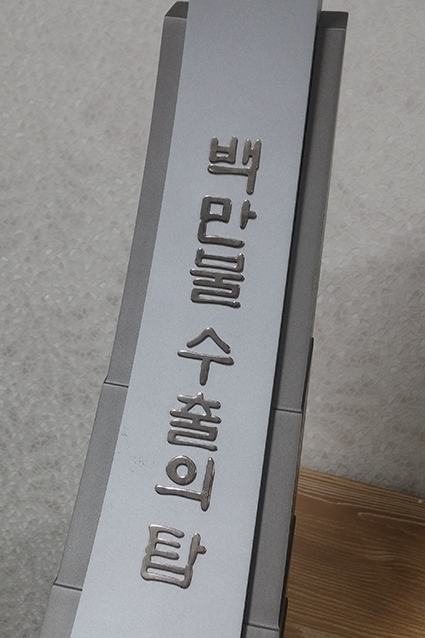 2015 Memorial Tablet for Million Dollar Export (Korean Government)